Miss Muttly Manners: Leash & Dog Park Etiquette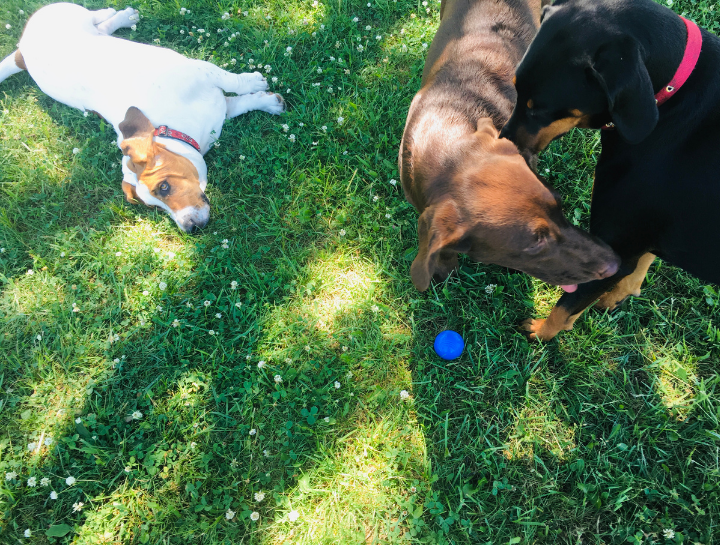 May 14, 2020
As most dog owners know, there is always that one dog at the park who is a little too much. They're either aggressive, bullying, or jumping up on everyone and every dog – you know the one. Unfortunately, when that one is your very own four-legged, it can be discouraging for you and annoying for others.
Dog park and leash etiquette is something we all can agree on to make these experiences safer and pleasant for everyone. The team at Advantage Veterinary Center is here with some expert tips on perfect leash and dog park etiquette, just in time for the spring and summer.
The Way of the Leash
Do you have a dog who goes berserk every time they see another dog? Or one who pulls and lunges for everything? Then your pup probably needs some pointers in good leash handling. To do this takes time and practice.
First, you need to remove any distractions that take away from your leash training sessions. This means walking in an area where there are few people or other dogs.
Make sure your dog responds to your commands, and if this isn't the case, try professional training and socialization classes. If your dog pulls, stop and look away until you can get their attention, then proceed with the walk. You may need to do this several times in a session, but it will pay off in the end.
Bring some treats as a reward when your pet walks without pulling or lunging.
Other ways to cultivate leash manners:
Give other dogs, people, and wildlife a wide berth. Move across the street when you see other animals or people walking your way.
Make sure your pet is fully trained and responds to commands.
Avoid retractable leashes which can cause injury and are harder to handle.
Always ask other pet owners if you can approach their pet.
Perfect Dog Park Pupil
Dog parks are a great way for you to exercise your dog and give them the social time they need to thrive. They can also be a disaster in the making if manners and etiquette aren't followed. There are ways to make the dog park a blast for everyone, while maintaining safety.
Bring plenty of waste bags and pick up after your pooch.
Make sure your pet is fully vaccinated and on parasite prevention.
Never bring a sick pet to the dog park.
Supervise your pet (stow away the phone) and interact with them during their playtime.
Discourage them to jump up on other people or become rowdy with their dog peers.
If there is an issue with your dog or another, separate them or leave.
Don't bring food or favorite toys to the park to avoid a fight.
Never bring a sexually intact pet to the dog park.
Bring your own water and bowl for your dog, because you ensure that they stay hydrated and avoid picking up any illnesses that are waterborne.
It's a good idea to get to know other pet owners and their pups at the park. This rapport gives you a sense of which dogs your pet will bond with, so they can have a better experience playing together. Keep your pet's collar on them and a leash nearby, should you need to exit quickly.
Additional Tips on Leash and Dog Park Etiquette
Being a top notch dog owner relies on making sure you and your pet are following great etiquette on the leash and off. If you would like to ask questions about dog park etiquette, leash training, or any other pet matter, please call us! We look forward to seeing you and your sweet pet soon.