Pets As Presents: To Gift or Not to Gift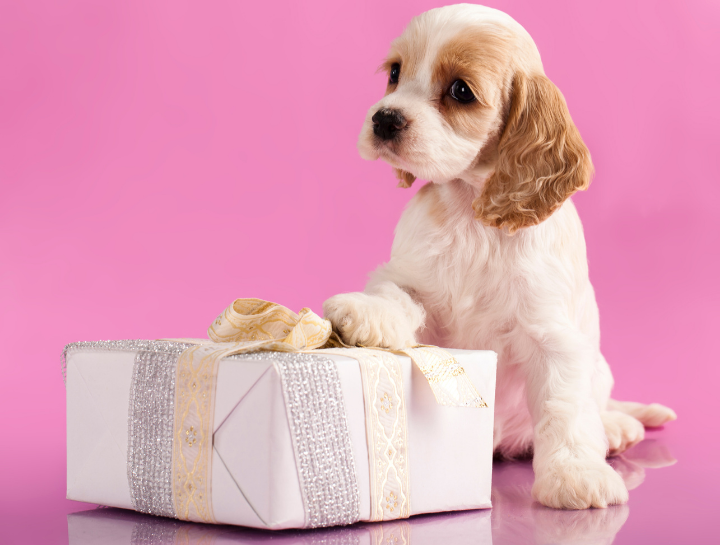 December 12, 2019
The holidays are upon us, and you may be getting giddy at the idea of adopting a wonderful pet to give to the animal lover in your life. Before you steam ahead, take some time to reflect on making pets as presents a part of your holiday season.
There are some special considerations with holiday pet adoption. For one thing, you don't want a pet to end up back at the shelter or re-homed after the holidays are over. This decision requires careful planning and preparation.
At Advantage Veterinary Center we've seen it all, and we have some thoughts on whether or not to give pets as presents for the holidays (or any time of year).
Start at the Beginning
When thinking about pets as presents, it's easy to get excited about surprising our loved one. But, tread lightly. Pet ownership is highly personal, and takes dedication, time, money, and is a lot of responsibility. Not everyone is prepared to take on a pet at the drop of a hat.
Instead, consider asking the recipient if they want a pet, first. Sure, you may blow the surprise, but that may be better than giving an unwanted gift.
A Good Idea?
Several years ago, animal welfare activists were adamant that giving pets as gifts was not a good idea, citing the return rate of pets given as gifts. Recently though, the ASPCA is speaking with a softer tone. A study conducted by the organization found that 96% of people who received a pet as a gift thought it either increased or had no effect on their love or attachment to that pet.
This is not without caveats, however. Here are some things to consider when giving pets as presents, no matter the time of year.
If the new owner will be a child, know that the ASPCA recommends waiting until children are 10-13 years old before they are ready for the responsibility of a pet. And, there still needs to be a willing adult in the household to make sure the pet is being properly cared for.
Giving a puppy or a kitten might be exciting, but baby animals are much more work than their adult counterparts. Puppies and kittens need near constant attention and supervision, a tall order during the busy holiday season. Instead, consider adopting a senior pet or an adult pet whose personality is fully formed and who is likely house trained.
Shelters are full of sweet, wonderful pets who are just waiting for loving homes. Please adopt, don't shop! The shelter workers know each pet's personality and behaviors and can match you with the perfect pet. And best of all, you'll be saving a life.
Ways To Make Pets As Presents Work
If you know your special recipient wants and is ready for a pet, it's time to figure out how to give your gift. We can all agree, though, that a box with holes under the Christmas tree is not an option. Instead, try one of the following ideas:
Draw and color a gift certificate and make a date to go to the shelter together to pick out your special pet
Gather items you'll need to care for your new pet in a festive basket. Grooming tools, a pet bed, food and water dishes, and toys and treats are great gifts!
Gift a selection of magazines, books, and videos about your chosen species and breed of pet, to learn from together.
Wrap up a stuffed animal in the likeness of your chosen pet, along with a gift certificate for obedience classes, veterinary care, grooming, and the like.
Bringing a new animal into the family during the hustle and bustle of the holiday season can create a stressful situation for everyone. Pets, no matter their species or age, need time to acclimate to a new environment and routine.
Instead, consider waiting a few weeks until the holiday season has died down and you can bring a new best friend into a calmer environment. You are your new pet will both be happier and more at ease.
If you have any other concerns or questions about pets as presents and holiday pet adoption, please give us a call.